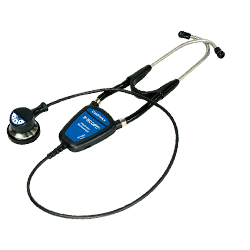 The E-Scope, Electronic Stethoscope can amplify sounds up to 30 times louder than an acoustic scope. This allows the user to listen in a traditional way with increased volume.
The E-Scope is being use around the world in general clinical practice, by hearing impaired nurses and MDs, for research purposes, to record patients for use in electronic medical records, and for telemedicine.
The E-Scope has a control filter switch which allows the user to concentrate on heart or breath sound frequencies within a specific range. The control buttons are conveniently located on the head of the stethoscope (pictured). Volume is also controlled on the head of the stethoscope. The E-Scope is designed to remain at the same volume setting each time you power on. There are 32 possible volume positions with the maximum output of 125 dB, undistorted.