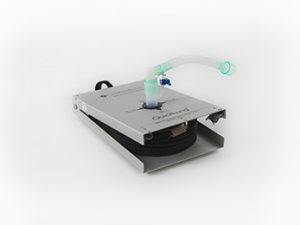 QuickLung Precision Test Lung
In the real world, patients breathe spontaneously and have a wide range of compliances and resistances. Ventilators should respond to those conditions, but without an adjustable test lung, and the ability to simulate patient efforts, how can you ensure accurate ventilator response or teach ventilator management?
QuickLung® is an adjustable, precision test lung for ventilator testing and training. It is compact, easy-to-use, and capable of simulating a wide range of patient conditions, including patient inspiratory efforts. You can use QuickLung alone, or customize according to your needs by adding options such as active breathing, graphics, intubation, and more.
Intended Use
Ventilator performance verification: combine with any flow/volume/ pressure analyzer for a complete ventilator testing system
In-service training and sales demonstration
Basic mechanical ventilation training
Compatible with all ventilators, from ICU to transport
Impressive Performance
Accurate and versatile
Bellow-style test lung provides more linear and predictable respiratory simulation than a bladder-style test lung.
Easy-to-Use
No external gas source required.
Simple manual adjustment of resistance, compliance, and leaks
Cost-Effective
No other test lung performs at this level of precision and versatility at this price.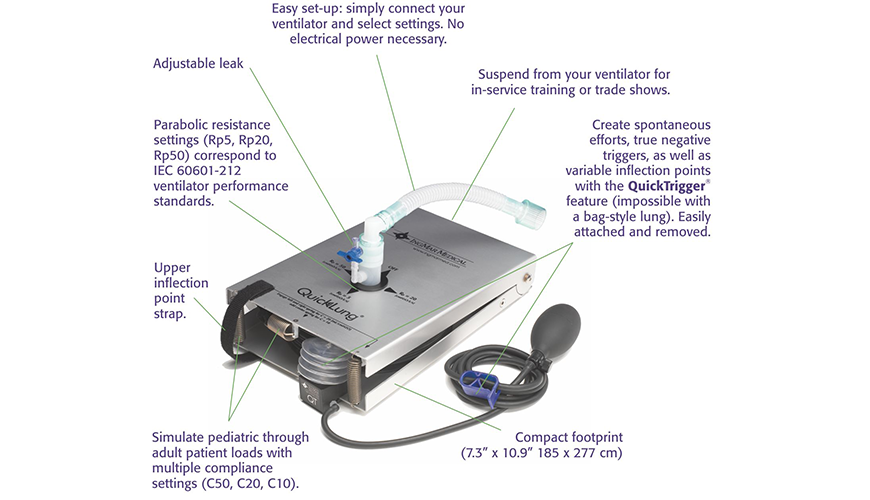 Compact 7.5" x 11" footprint. Works accurately from a table or suspended from a ventilator.
Ventilator triggering: Detachable QuickTrigger® feature simulates a physiologically-correct inspiratory effort (negative pressure).
Regulatory compliance: Easily adjustable parabolic resistance and compliance settings correspond to IEC 60601-212 ventilator performance standards.
Versatile: QuickLung is the core of a modular system with options for a variety of applications.