Adult/Pediatric Demo Lung
Demonstrate the dynamics of patient-ventilator interaction in a very intuitive, visual fashion.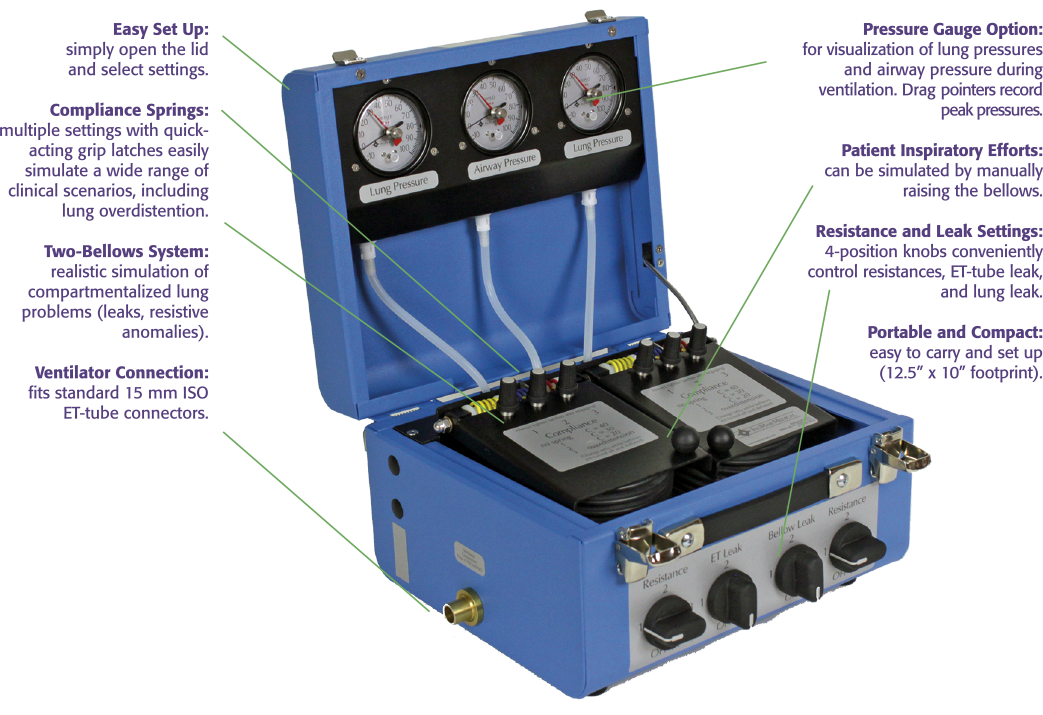 The Adult/Pediatric Demo Lung Model is a portable two-bellows lung simulator with easy control of compliance, resistance, and leak settings to simulate a wide spectrum of patient scenarios (pediatric to adult).
Intended Use
Hands-on ventilator training and demonstration with no risk to patients
Pressure Monitoring
Built-in pressure gauges show differences between airway and lung compartment pressure.
Compact and Portable
Take the Adult/Pediatric Demo Lung along wherever you need it (12.5?? x 10?? (318 X 230 mm) footprint).
Two-Bellows System
Realistic simulation of compartmentalized lung problems (leaks, resistive anomalies).
Multiple compliance settings easily simulate a wide range of patient scenarios, including over-distention.
Adjustable resistance and leak settings (ET-tube and lung leak) allow you to show a variety of patient conditions.
Patient inspiratory efforts can be simulated by manually raising the bellows.
Pressure gauges show airway as well as lung pressures.