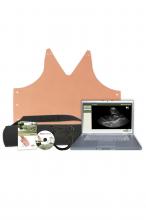 SonoSkin is a wearable, diagnostic ultrasound training platform that's easily added to virtually any training scenario for FAST and eFAST exam learning.
SonoSkin can be worn on a standardized patient, TraumaMan or your patient simulator. With SonoSkin software, instructors can illustrate ultrasound views used during the FAST (Focused Assessment with Sonography for Trauma) and eFAST exams.
Our extensive pathology library includes images and videos from up to ten actual patients. SonoSkin can be set to "mentor" mode, which includes visual instruction and space for unique notations or "student" mode, which randomly selects patient scenarios for hands-on learning.
Skill Development
•Understand and diagnose disease states using real patient images and videos and real ultrasound acquisition on the body form
•Gain a broad view of patient pathologies--read and interpret various normal and abnormal images
Features
•Simulated ultrasound probe plugs into a PC
•Software that allows any Windows-based PC to simulate an ultrasound machine
•Body form with embedded targets for each of the viewing windows based on the computer module selected
•Transverse and longitudinal viewing options
•Available rare pathology not commonly seen when training on real patients
•All images and videos are of actual patients - both normal and abnormal
•Each module includes an instructor (enable visual instruction with mentor mode to discuss pathology and diagnoses) and student mode (randomly selects patient)
•Mentor mode allows users to activate the onscreen labels that identify the anatomy and pathology of any of the digital images
Product Components
SonoSkin Body Form Tissue, Protective Foam Cover for Probe Protection, New FAST and eFAST Module Software, SonoSkin Wearable Strap, Carrying Case
*PC Not Included
Dimensions