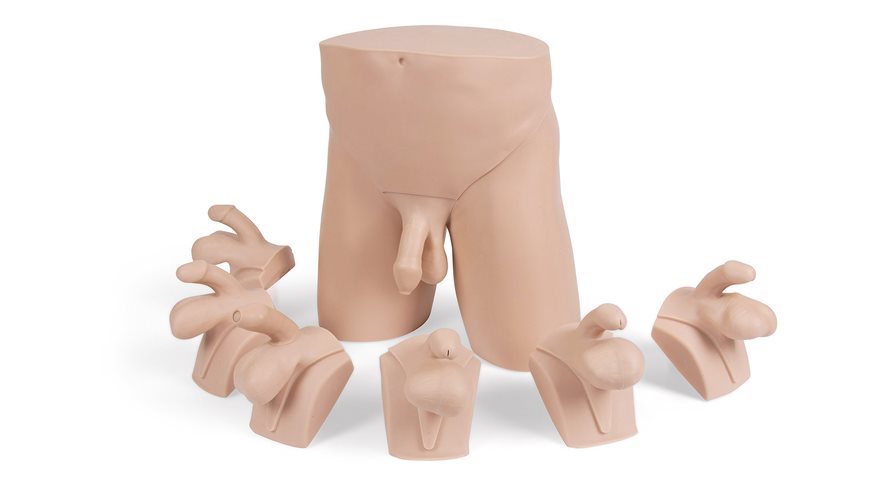 Available in Light and Dark Skin Tone
Our anatomically accurate trainer is an ideal platform for teaching and learning 'hands-on' male pelvic examination and diagnosis.
The user-friendly design, combined with clear anatomic landmarks and a range of pathologies creates a realistic training experience for students across all levels of healthcare education.
Journal of Surgical Education, Volume 74, Issue 3 May-June 2017 "Our study demonstrates that the CMPT MK 2—Advanced models have high "face validity" and may be a valuable tool for surgical education. The use of these models should be explored for use in the curriculum at medical school."
Developed in collaboration with:
The Clinical Skills Resource Centre, University of Liverpool, UK

Imperial College, London, UK

Guys Hospital, London, UK

Southmead Hospital, Bristol, UK

University of Southampton, UK
REALISM
VERSATILITY
Soft tissue inserts can be removed and replaced

Can be used in 2 positions (standing and supine)
CLEANING
SAFETY
ANATOMY
Abdomen, pelvis and genitalia

Anatomy of the groin with clear anatomical landmarks:

Anterior Superior Iliac Spine (ASIS)

Pubic symphysis and tubercles

Genitalia includes:

Penis – both circumcised and non-circumcised

Scrotum – containing testicles with epididymis and vas deferens

Pathologies:

Testicular tumor and penile cancer

Epididymal cyst

Varicocele

Orchitis/epididymo-orchitis

Hydrocele

Indirect inguinal hernia
SKILLS GAINED
Correct examination procedure of male pelvis

Examination and evaluation of:

Dry catheterization
COMPARISON

Product No.

Skills

60951

60950

Correct examination procedure of male pelvis

Yes

Yes

Examination and evaluation of:

Normal anatomy

Yes

Yes

Testicular abnormalities

Yes

Yes

Abdominal and pelvic pain

Yes

Yes

Dry catheterization

Yes

No
CMPT Mk 2 Module 1: Normal

Product No. 60952

CMPT Mk 2 Module 2: Varicocele

Product No. 60953

CMPT Mk 2 Module 3: Tumors

Product No. 60954

CMPT Mk 2 Module 5: Hydrocele

Product No. 60956

CMPT Mk 2 Module 6: Epididymitis/Epididymo-orchitis

Product No. 60957

CMPT Mk 2 Module 7: Indirect Inguinal Hernia

Product No. 60958

CMPT Mk 2 Abdominal Insert

Product No. 60959

CMPT Mk 2 Pubic Bone

Product No. 60960

CMPT Mk 2 Foreskins (Pack of 2)

Product No. 60961

CMPT Mk 2 Module 4: Epididymal Cysts

Product No. 60955

2 Carry cases - 1 modules, 1 trainer
COMPARISON

Product No.

What's included

60951

60950
60952

CMPT Module 1: Normal

Yes

Yes

60953

CMPT Module 2: Varicocele

Yes

No

60954

CMPT Module 3: Tumors

Yes

No

60955

CMPT Module 4: Epididymal Cysts

Yes

No

60956

CMPT Module 5: Hydrocele

Yes

No

60957

CMPT Module 6: Orchitis/Epididymo-orchitis

Yes

No

60958

CMPT Module 7: Indirect Inguinal HernIa

Yes

No

60959

CMPT Abdominal Insert

Yes

Yes

60960

CMPT Pubic Bone

Yes

Yes

60961

CMPT Foreskins Pack (contains 2 foreskins & 3 lubricant sachets)

Yes

Yes

-

Lower torso

Yes

Yes

-

Support Base

Yes

Yes

-

Carry case (trainer)

Yes

Yes

-

Carry case (modules)

Yes

No

-

LED pen light

Yes

No
60951 - Light Skin
60965 - Dark Skin