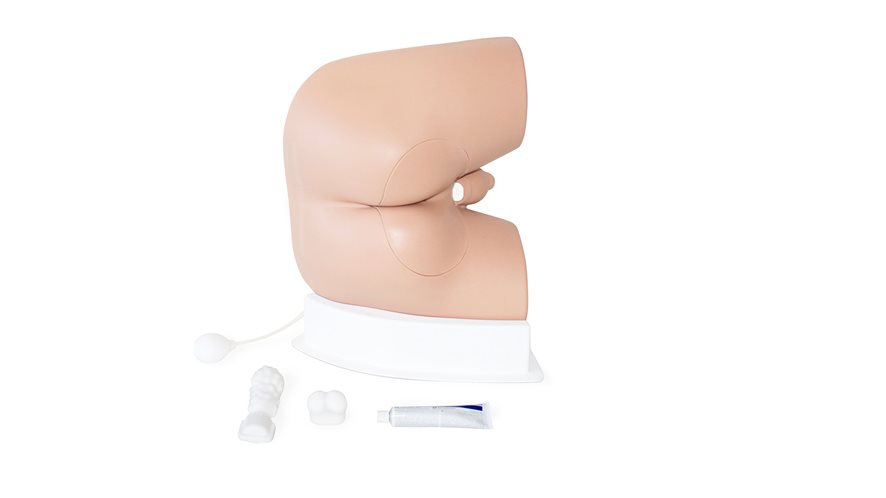 Available in Light and Dark Skin Tones
This brand new trainer offers realistic, repeatable training in the core skill of digital rectal or PR examination.
The Standard model focuses on learning core rectal nursing procedures.
Both the Standard and Advanced model offer a contractible anal sphincter, allowing for anal tone assessment, and a fecal impaction clip in module.
OVERVIEW
Simulation of sphincter contraction allows trainees to assess anal tone
Left lateral positioning
Addition of impacted faecal matter allows trainees to recognise and distinguish this common finding
REALISM
Soft, partable buttocks
Realistic anus with resting tone and ability to contract
VERSATILITY
Trainer can also be presented in a 'semi-standing' position using the optional Standing Position Stand (60172)
SAFETY
ANATOMY
Buttocks, anus, rectum, prostate and perineum
SKILLS GAINED
Digital examination of the anus, rectum and prostate

Assessment of anal tone

Identification of faecal matter in the rectum

Professional to patient communication
Male Rectal Examination Trainer Base Unit

Product No. 60177

Left Lateral Stand

Product No. 60174

Normal Perineum with Anal Tone

Product No. 60175

Normal Prostate

Product No. 60179

Impacted Fecal Matter

Product No. 60184

Lubricant

COMPARISON
Product No.
What's included
60170
60171

Base Unit
Yes
Yes

Left Lateral Stand
Yes
Yes

Normal Perineum with Anal Tone
Yes
Yes

Pathological Perineum with Anal Tone
No
Yes

Normal Prostate
Yes
Yes

Benign Unilateral Enlarged Prostate
No
Yes

Benign Bilateral Enlarged Prostate
No
Yes

Unilateral Carcinoma Prostate
No
Yes

Bilateral Carcinoma Prostate
No
Yes

Impacted Faecal Matter
Yes
Yes

External Conditions Illustration Pack
No
Yes

-

Lubricant
Yes
Yes